Laboratory of Benthic Ecology
Keywords: marine ecology, benthic invertebrate taxonomy, biomass, image analysis, bioconstruction, bioerosion, habitat mapping
At the Benthic Ecology laboratory, located at the Laboratory of Environmental Sciences "R. Sartori", Via S. Alberto 163 in Ravenna (rooms E1-E7b, ground floor), analyses of samples and data processing are carried out to support the benthic ecology studies in temperate and tropical marine coastal environments, to investigate the effects of anthropogenic disturbances and climate change on the functioning and biodiversity of these ecosystems, and to develop innovative approaches for their monitoring, conservation, and restoration.
The analysis of benthic macro- and meiobenthic organisms includes taxonomic identification, and size and biomass measurements. Quantification of colonization, bioconstruction and bioerosion processes are made in natural and artificial substrates samples. Bioturbation processes, organic matter content, and sediment granulometry are analysed in sediments.
Data acquisition and processing include chemical-physical parameters of water and seabed with multi-parametric probes, data loggers, single-beam and side-scan sonar, photographic and video samples taken underwater and under microscope, also in fluorescence. 2D and 3D image analyses are performed, including X-ray computed tomography (provided by other laboratories), database management, oceanographic data processing, habitat mapping and spatial analyses, and uni- and multivariate statistical analyses. The laboratory curates a collection of benthic macrofauna species, accompanied by photographs, and underwater photographic collections.
Laboratory equipment
In addition to consumables, glassware, and essential tools, the Benthic Ecology laboratory is equipped with:
1 washbasin under fume hood
8 Leica Wild M3B stereo microscopes
1 Leica Wild M8 photo stereomicroscope
1 Leitz Laborlux S photo microscope
1 Nikon SMZ 1500 photo stereomicroscope
1 Nikon Eclipse 50i photo microscope
1 Kern 770 scale (± 0.00001 g computerized)
1 Kern EWJ scale
1 dry and wet sieving machine Giuliani IG / 3.EX WET with complete series of calibrated sieves
1 Rotofix 32A centrifuge
1 Shimadzu UV-1700 spectrophotometer
2 vacuum filtration systems
2 ovens
1 muffle
1 Smeg GW 3050 glasswasher
1 suction cabinet for chemical reagents
6 desktop computers
1 file server
Biological and organic samples are usually preserved in alcohol or freezer, with a limited use of formic aldehyde.
The subsidiary rooms (E3, A6, 038, 52, 53, 54, 55), shared with the other ecology laboratories, include air-conditioned spaces for setting up experiments in aquariums, a mechanical workshop, warehouses with freezers, storage of field materials, nautical and underwater equipments, including:
1 Peugeot Partner car
1 Arimar Scuba 470 inflatable boat + 40 HP engine, transportable with trailer
1 Lomac 450 dinghy + 25 HP outboard motor transportable with trailer
1 470 aluminium boat + 15 HP outboard motor transportable with trailer
1 outboard motor 5 HP
1 road trailer for equipment
multiparametric probes (CTD)
Star Oddi and Hobo data loggers
Wildco box-corer
Wildco Ponar grab
medium Van Veen grab
small Van Veen grab
5 Garmin GPS
1 Lowrance single-beam and side scan sonar
underwater cameras and video cameras
4 portable microscopes
10 scuba tanks
1 Divers Alert Network (DAN) oxygen emergency kit
2 underwater communication systems
3 underwater sorbons
Teaching, training, and research activities
The laboratory is mainly intended for research activities and hosts Italian and foreign PhD students and research fellows. The laboratory also allows students to carry out internships, bachelor and master theses, generally within ongoing research projects. A laboratory bench is intended for the specific needs of the Interdepartmental Centre for Industrial Research of Renewable Sources, Environment, Sea and Energy (CIRI - FRAME).
Album

General view of the laboratory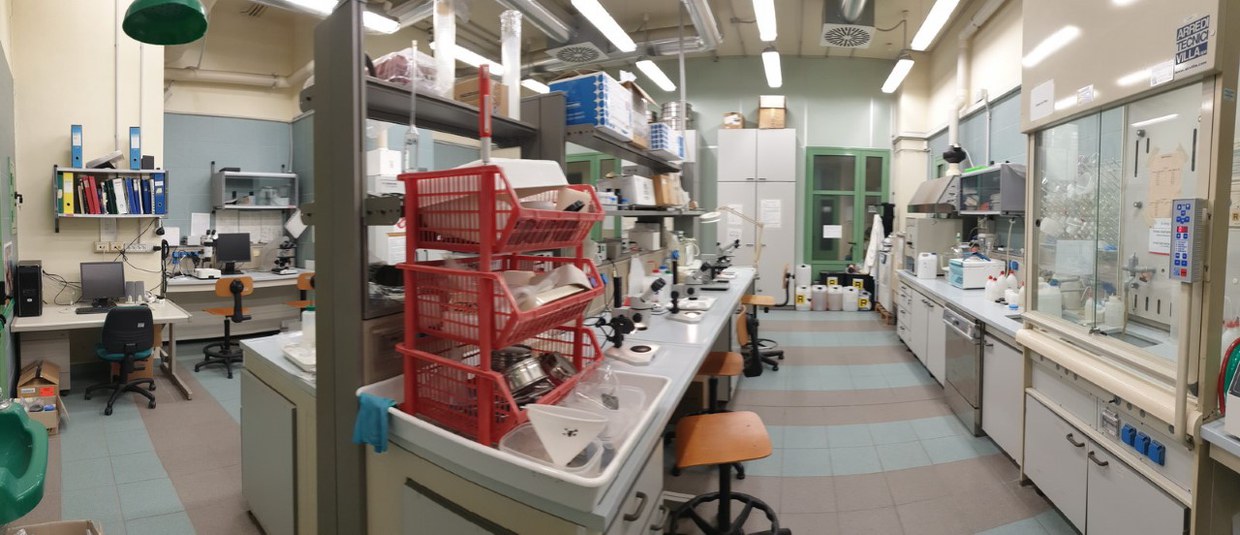 Sample preparation area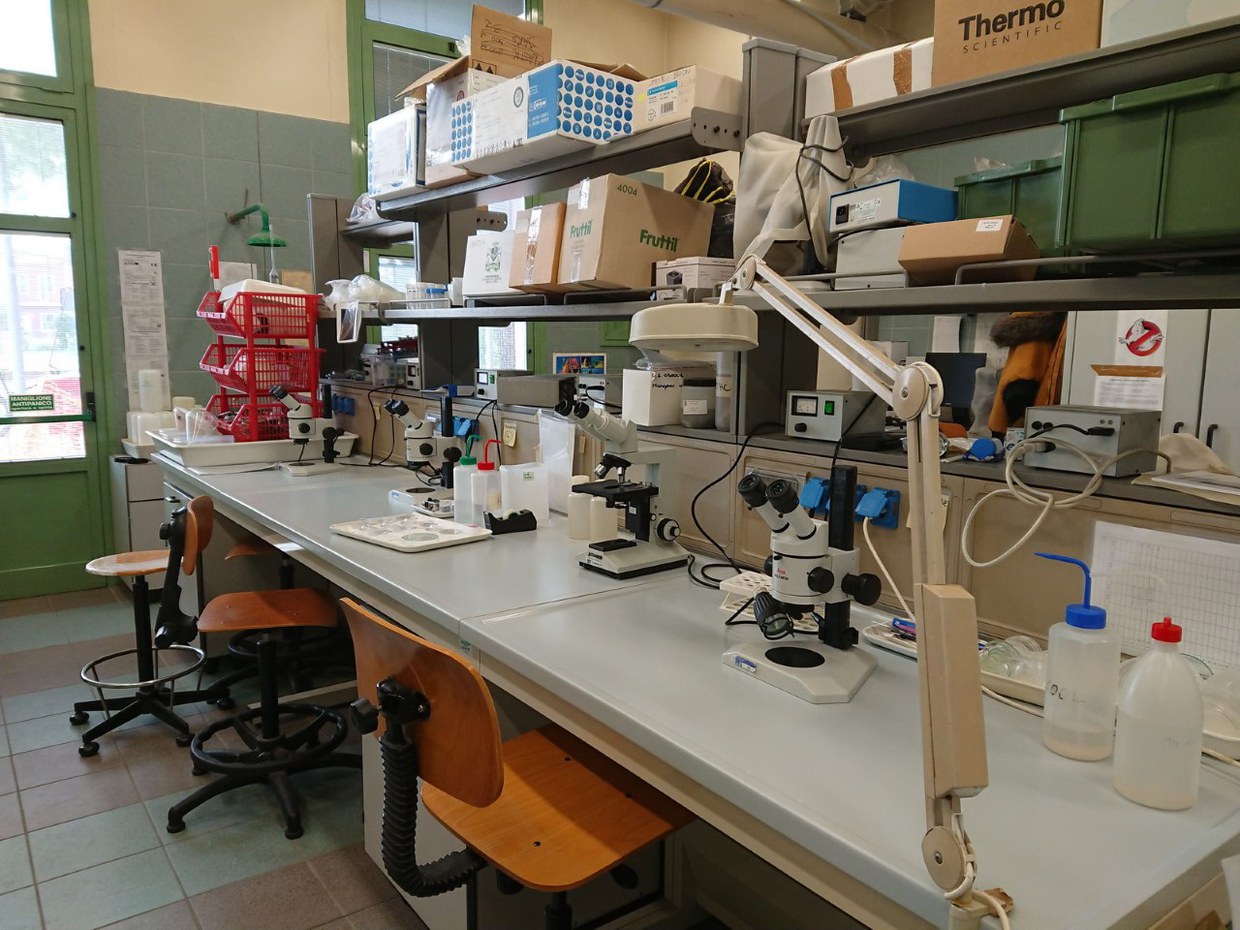 Microscopes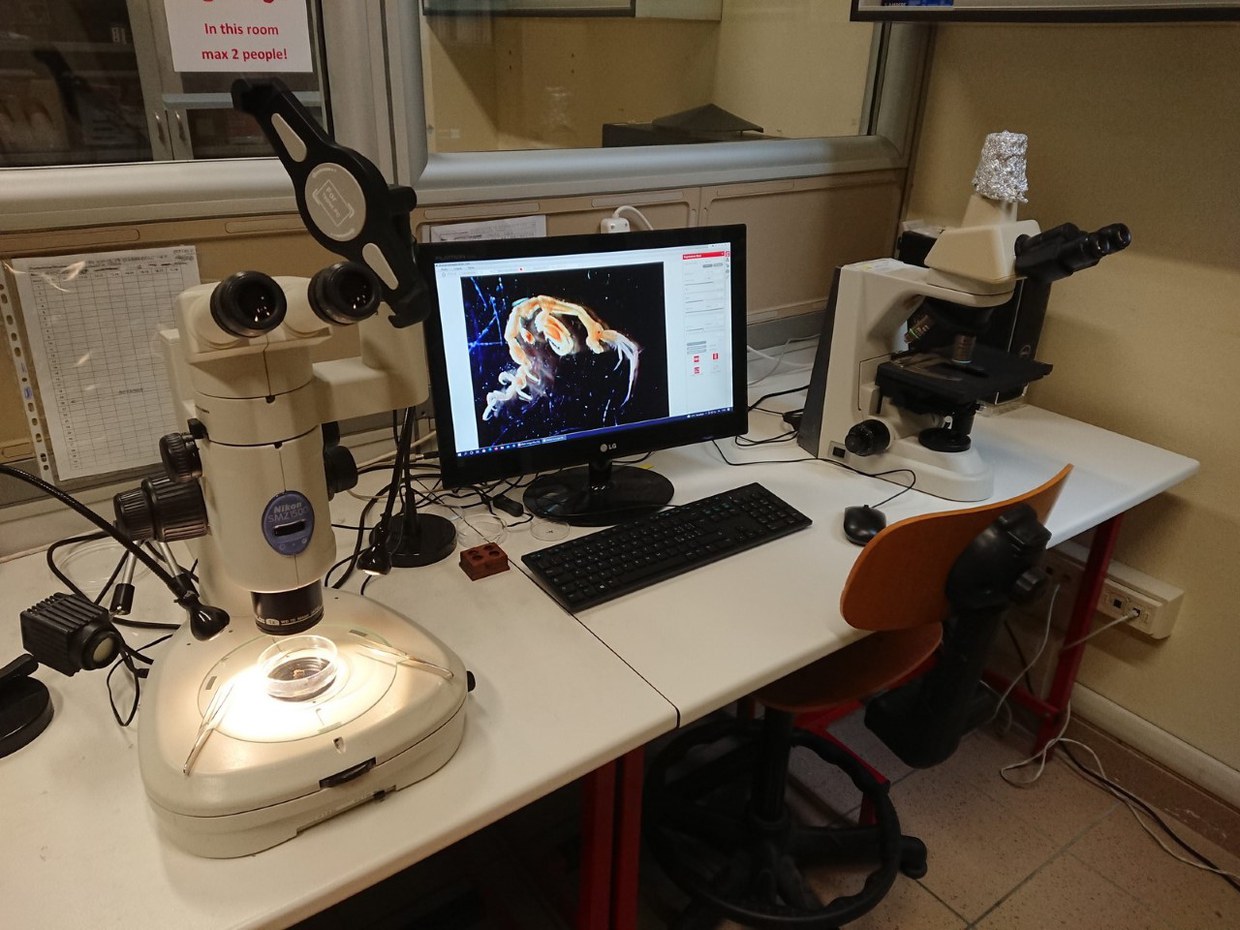 Microscope with photographic equipment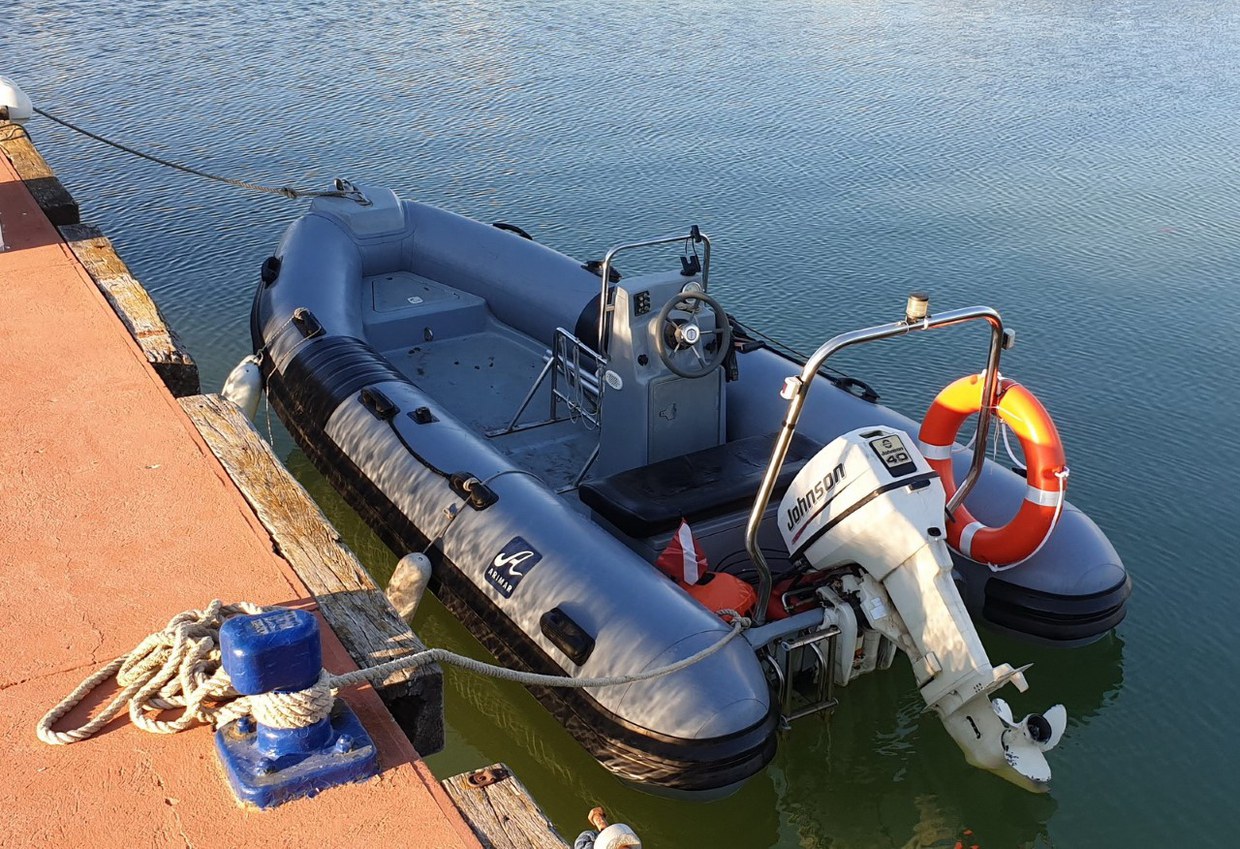 Inflatable boat with outboard motor
Contacts
Associate Professor

Dipartimento di Scienze Biologiche, Geologiche e Ambientali - BiGeA

Piazza di Porta S.Donato 1

Bologna (BO)

Tel: +39 0544 937400

Assistant professor

Dipartimento di Scienze Biologiche, Geologiche e Ambientali

Via S.Alberto 163

Ravenna (RA)

Tel: +39 0544 937392