Ore deposit modelling, feedbacks between deformation, fluid flow and metallogenesis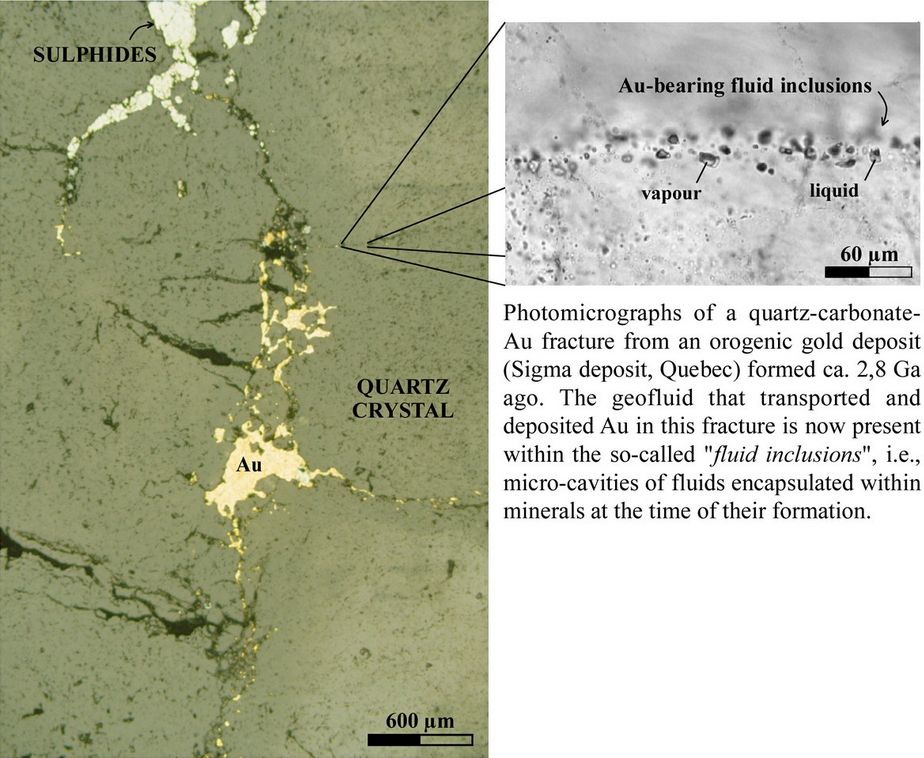 This line of research considers the role of geofluids in the processes of the Earth's crust where mass and heat are transferred during brittle or ductile deformation of rocks, and ore deposits are formed because of that transfer. Examples of these processes are the networks of Au-mineralized quartz-carbonate veins called "orogenic deposits" and geothermal systems.
We evaluate the role of geofluids with a three-pronged approach: 1) field geology; 2) determination of physical-chemical properties of geofluids via multi-technique fluid inclusion analyses; and 3) geochemical modelling. By combining these data, we capture the key large-scale processes that control mass transfer, especially during hydrothermal fluid flow in faults.
International collaborations
Alexander Graham-Gundlach, Gunnar Schwarz, Detlef Günther – ETH Zurich
Ivan Callegari, GUtech, Sultanate of Oman
Selected references
- Gundlach-Graham, A., Garofalo, P.S., Schwarz, G., Redi, D., Günther, D. (2018): High-resolution, Quantitative Element Imaging of an Upper Crust, Low-angle Cataclasite (Zuccale Fault, Northern Apennines) by Laser Ablation ICP Time-of-Flight Mass Spectrometry. Geostandards and Geoanalytical Research 42, 559-574.
- Mazzarini, F., Musumeci, G., Viola, G., Garofalo, P.S., Mattila, J. (2019): Structural and lithological control on fluid circulation, dilation and ore mineralization (Rio Albano mine, Island of Elba, Italy). Journal of Structural Geology 126, 210-230.
- Neff, C., Keresztes Schmidt, P., Garofalo, P.S., Schwarz, G., Günther, D. (2020): Capabilities of automated LA-ICP-TOFMS imaging of geological samples. Journal of Analytical Atomic Spectrometry.
- Viola, G., Torgersen, E., Mazzarini, F., Musumeci, G., Lelij, R., Schönenberger, J., Garofalo, P.S. (2018): New Constraints on the Evolution of the Inner Northern Apennines by K-Ar Dating of Late Miocene-Early Pliocene Compression on the Island of Elba, Italy. Tectonics 37.
- Torgersen, E., Viola, G., Sandstad, J.S., Stein, H., Zwingmann, H. and Hannah, J. (2015): Effects of frictional-viscous oscillations and fluid flow on the structural evolution and Re-Os pyrite-chalcopyrite systematics of Cu-rich carbonate veins in northern Norway. Tectonophysics, 659, 70-90.- Garofalo P.S., Fricker M.B., Günther D., Bersani D., Lottici P.P. (2014): Physical-chemical properties and metal budget of Au-transporting hydrothermal fluids in orogenic deposits. From: Gold-transporting hydrothermal fluids in the Earth's crust; The Geological Society Special Publication No. 402; Garofalo P.S. and Ridley J.R. (Eds.). 71-102
 - Garofalo P.S., Ridley, J.R. (2014): Gold-transporting hydrothermal fluids in the Earth's crust: an introduction. From: Gold-transporting hydrothermal fluids in the Earth's crust; The Geological Society Special Publication No. 402; Garofalo P.S. and Ridley J.R. (Eds.). 1-7
- Garofalo P.S. (2011): The composition of Alpine marine sediments (Bündnerschiefer Formation, W Alps) and the mobility of their chemical components during orogenic metamorphism. Lithos, 128-131, 55-72
- Badino G., Calaforra J.M., Forti P., Garofalo P.S., and Sanna L. (2011) The present-day genesis and evolution of cave minerals inside the Ojo de la Reina Cave (Naica Mine, Mexico). International Journal of Speleology, 40 (2), 125-131
- Prokofiev V.Yu., Garofalo P.S., Bortnikov N.S., Kovalenker V.A., Zorina L.D., Grichuk D.V., and Selektor S.L. (2010): Genesis of the gold deposits of the Darasun district (Eastern Transbaykalia, Russia) from a set of fluid inclusion constraints. Economic Geology 105, 395-416
- Garofalo P.S., Fricker M., Günther  D., Mercuri  A.-M., Loreti M., Forti P., and Capaccioni B. (2010): A climatic control on the formation of gigantic gypsum crystals within the hypogenic caves of Naica (Mexico)? Earth and Planetary Science Letters, 289, 560-569
- Eilu, P., Garofalo, P.S., Appel, P.W.U., Heijlen, W. (2006): Alteration patterns in Au-mineralised zones of Storø, Nuuk region – West Greenland. Geological Survey of Denmark and Greenland, pp. 1-73.- Garofalo P.S. (2004a): Mass transfer during gold precipitation within a vertically extensive vein network (Sigma deposit - Abitibi greenstone belt - Canada). Part I. Patterns of hydrothermal alteration haloes. European Journal of Mineralogy, 16(5), 753-760
- Garofalo P.S. (2004b): Mass transfer during gold precipitation within a vertically extensive vein network (Sigma deposit - Abitibi greenstone belt - Canada). Part II. Mass transfer calculations. European Journal of Mineralogy, 16(5), 761-776
- Garofalo P.S., Matthäi S.K., Heinrich C.A. (2002): Three-dimensional geometry, ore distribution, and time-integrated mass transfer through the quartz-tourmaline-gold vein network of the Sigma deposit (Abitibi belt – Canada). Geofluids, 2, 217-232
- Garofalo P.S., Audédat A., Günther D., Heinrich C. A., and Ridley J. (2000): Estimation and testing of standard molar thermodynamic properties of tourmaline end-members using data of natural samples. American Mineralogist, 85, 78-88
- Gianelli G., Mekuria N., Battaglia S., Chersicla A., Garofalo P.S., Ruggieri G., Manganelli M., Gebregziabher Z. (1998): Water-rock interaction and hydrothermal mineral equilibria in the Tendaho geothermal system. Journal of Volcanology and Geothermal Research 86(1-4), 253-276